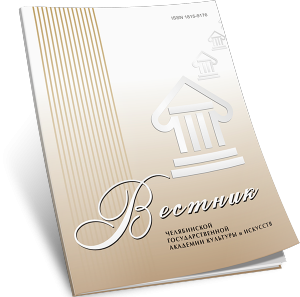 "Culture and Arts Herald" (issued as "Herald of the Chelyabinsk State Academy of Culture and Arts" until 13.10.2016) has been published since 2002 and belongs to the leading scientific journals. At present it is issued quarterly.  According to eLIBRARY.RU data on 29.08.2022 the journal occupies the 10 in SCIENCE INDEX rating for 2021 among Russian journals in "Art. Art Criticism" and occupies the 21 position in "Culture. Culturology".
Release of a scientific journal is a priority areas of publishing activity at the Chelyabinsk State Institute of Culture and Arts. "Culture and Arts Herald" is a quarterly scientific journal in Art covering issues of Culturology, Art Criticism and Information and Documentation spheres. It publishes articles and other materials of the following specialties groups: 24.00.01 Theory and History of Culture, 05.25.03 Library Science, Bibliography and Bibliology. In their activity the Editorial staff of the journal is guided by the Charter. The main goals include formation of scientific-informational environment; spreading of scientific knowledge in social-humanitarian sphere in the field of informational and communicative sciences, culturology, art criticism ant others; information support of top-priority scientific researches.
Our journal publishes the results of scientific researches of scientists known not only in Russia but also abroad. Among them are K. K. Kolin, A. D. Ursul, A. V. Sokolov, A. Ya. Fliere and others.
"Culture and Arts Herald" is included into the List of leading peer-reviewed scientific jornals  and editions where main scientific results of theses for a Candidate and  a Doctor Degrees (since December 1, 2015 till January 1, 2018) must be published (24.00.01 Theory and History of Culture).
Electronic version of the Journal is placed in scientific electronic libraries eLIBRARY.RU (is included in Russian Science Citation Index) and CYBERLENINKA.RU.